Tomorrow ! D.I.R.T.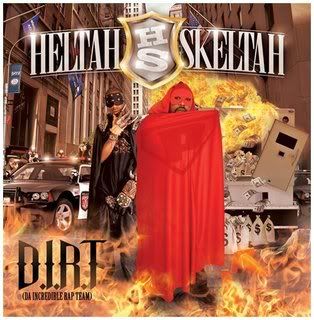 Duck Down!
SEPT 30th. Support the artist. Coinstar it up if you must. Best album you've heard thus far.
Definitely artwork of the year.
01 - Intro Feat. DonRocko, BummyFlyJab & Alkatraz (prod. by D Dot)(BEST INTRO IN YEARS. Gorilla rap right here)
02 - Everything Is Heltah Skeltah (prod. by Ill Mind)(Planet of the apes I blam the cannon in your face, P! )
03 - The Art Of Disrespekinazation (prod. by Khrysis)(You already know. BANG THIS)
04 - Da Beginning Of Da End (prod. by 10)(FIYA)
05 - Twinz (prod. by Sould Theory)(Real nasty theremin sounding beat. Turn this up)
06 - D.I.R.T. (Another Boot Camp Clik Yeah Song) (prod. by Khrysis)(My favorite track on the album. Middle fingers in the air)
07 - So Damn Tuff Feat. Buckshot & Ruste Juxx (prod. by Ill Mind)(Nice)
08 - Insane (prod. by Marco Polo)(Real HS feel with this one)
09 - W.M.D. Feat. Smif N Wessun (prod. by M-Phazes)(Beautiful)
10 - That's Incredible (prod. by Double Up)(That aint a throwback, your jersey's just old black)
11 - Ape Food (Feat. The Representativz) (prod. by Stu Bangas)(Nice)
12 - Hellz Kitchen (prod. by Evidence)(Evidence ill on the beat)
13 - Smack Muzik (Feat. Flood) (prod. By Sic Beats)(Flood made me lol)
14 - Ruck N Roll (prod. by Stu Bangas)(YESSSS!!)

I just wish it was longer. Press Repeat.
And don't forget Terms solid debut on
Nature Sounds
.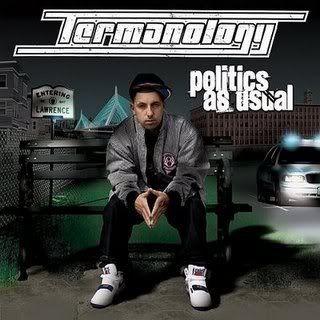 Definitely not artwork of the year.
01 - It's Time (prod. by Easy Mo Bee)(Great smooth intro)
02 - Watch How It Go Down (prod. by DJ Premier)(Premo starts it off real nice)
03 - Respect My Walk (prod. by Buckwild)(First listen i wasn't feeling it. It grew on me)
04 - Hood Shit Feat. Prodigy (prod. by The Alchemist)(Great to hear Prodigy on an Alchemist beat. Real dope one here)
05 - Float (prod. by Nottz)(Give it a chance. Its a feel good joint. Light it up)
06 - Please Don't Go (prod. by Nottz)( Baby. . . GO!! I can't co-sign this)
07 - How We Rock Feat. Bun B (prod. by DJ Premier)(C'mon now. Gutta.)
08 - Drugs, Crime, & Gorillaz Feat. Sheek Louch & Freeway (prod. by Nottz)( HaHa. This hook and Sheek ... check it out)
09 - In The Streets Feat. Lil' Fame (prod. by Hi-Tek)(Nice)
10 - So Amazing (prod. by DJ Premier)(Dope)
11 - Sorry I Lied To You (prod. by Large Professor)(Sorry I Listened to you)
12 - We Killin' Ourselves (prod. by Pete Rock)(Beat is PR so you know the deal. The singing on the track...yeah, not a fan)
13 - The Chosen (prod. by Havoc)(Now THIS is a Havoc beat. Bump It)